Episodes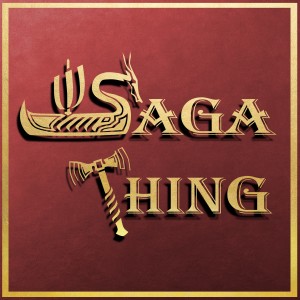 Wednesday Jan 16, 2019
Wednesday Jan 16, 2019
In this episode, Thorhall Ale-Hood burns down his woodlands making charcoal. Unfortunately for him, he also burns down the neighboring woods that belong to 6 of Iceland's most powerful chieftains. The woods aren't terribly important to them, but when Iceland's bully chieftains see a financial opportunity, they take it. This short saga tells the story of Ale-Hood's attempt to defend himself against the chieftains. If you liked Bandamanna Saga, then you'll love The "Saga" of Ale-Hood. It's a quick one, but it's full of laughs.
Thanks, as always, to Matt Smith for another original drawing. This one depicts Thorkel Fringe, one of the saga's bad guys, in a compromising position. Listen to the episode to find out more. You can visit Matt's webpage and follow him on Twitter to see more of his work.
We managed to do both the summary and the judgments for this one. It's been a while since that happened. Judgments start at 1:03:31.
Music Credits:
Intro Music - "Prelude and Action" by Kevin MacLeod (incompetech.com)
Summary Music - "Crowd Hammer" by Kevin MacLeod (incompetech.com)
Outro Music - "Stormfront" by Kevin MacLeod (incompetech.com)
Selections from music by Kevin MacLeod licensed under Creative Commons: By Attribution 3.0 License http://creativecommons.org/licenses/by/3.0/