Episodes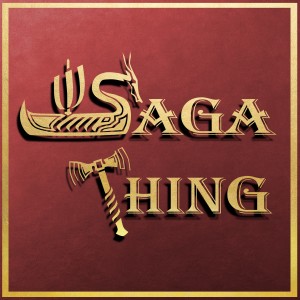 Friday Nov 23, 2018
Friday Nov 23, 2018
In this episode we rejoin Thorgils Scar-Leg's Step-son on the icy shores of Greenland. Of the 35 men and women who traveled with him to Greenland, his only companions are his son Thorleif and a pair of helpful brothers, Kol and Starkað. And then there's the child, Thorfinn, nourished by his father's love and bloody breast milk. Together these castaways must battle the elements on land and sea to make their way home again. Along the way they'll encounter troll women, a polar bear, terrible Vikings, and more than one opportunity to duel. There's even a guest appearance by everyone's favorite grumpy pagan, Eirik the Red.
Nearly a decade after being shipwrecked in Greenland, Thorgils finally returns to Iceland. He's greeted by his daughter Thorney, now grown into a beautiful young woman. In his absence, Thorny was married to Bjarni of Grof, an arrangement that Thorgils finds less than ideal. And when he attempts to take the lovely Helga as his own bride, Thorgils ends up feuding with a rival suitor, Asgrim Ellida-Grimsson, a familiar name from Njal's Saga. This conflict threatens to disrupt the relative peace of the region and prompts one of John's thingmen into action.
Will young Thorfinn survive the journey from Greenland? Does Thorstein the red-shirted Norwegian companion ever die? Will Thorgils manage to rearrange his daughter's marriage to his liking? Does Helga choose Thorgils or Asgrim? Or is her opinion not worth a hill of beans? And which thingman emerges from John's mead hall to settle the dispute over her hand?
Find out in the sometimes thrilling but poorly told conclusion to Floamanna Saga!
Thanks as always to Matt Smith for contributing another original drawing. Check out his webpage or Twitter account to keep up with Matt's latest projects.
Music Credits:
Intro Music - "Prelude and Action" by Kevin MacLeod (incompetech.com)
Review Music - "Some Smoke" by National Promenade Band
Summary Music - "Black Vortex" by Kevin MacLeod (incompetech.com)
Outro Music - "Stormfront" by Kevin MacLeod (incompetech.com)
Selections from music by Kevin MacLeod licensed under Creative Commons: By Attribution 3.0 License http://creativecommons.org/licenses/by/3.0/