Episodes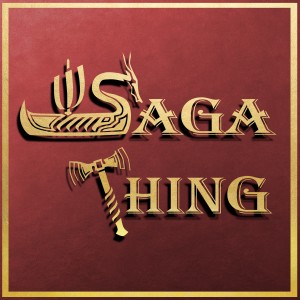 Sunday Jan 24, 2021
Sunday Jan 24, 2021
Saga Thing returns from a much needed holiday break to tackle The Saga of Thord Menace. In this episode we meet the family of Thord, explore the formulas of saga writing, witness the assassination of Norwegian royalty, and learn how young Thord earned his menacing nickname. Oh, and we finally get to see some saga characters taking advantage of the lovely hot springs of Iceland. It's a great start to a saga that rarely gets the attention it deserves. Join us for The Saga of Thord Menace!
Our thanks to Bryan Foust for returning to share his talents with us once again. Check out his work on Instagram, where he's known as @skarphedin_illustrator.
And, as promised, some bibliography on saints and hagiography, courtesy of John. Blame any issues with citation style accuracy on him. I'm just cutting and pasting this time.
Dubois, Thomas A. Sanctity in the North: Saints, Lives, and Cults in Medieval Scandinavia. University of Toronto Press, 2008.
Egilsdóttir, Ásdis. "Happy Endings: The (Para)Normality of Miracles." Ármann Jakobsson and Miriam Mayburd, eds. De Gruyter, 2020.
Egilsdóttir, Ásdis. "The beginnings of local hagiography in Iceland : the lives of Bishops Þorlákr and Jón." Lars Boje Mortenson, ed. The Making of Christian Myths in the Periphery of Latin Christendom (c.1000-1300). Museum Tusculanum Press (University of Copenhagen), 2006.
Grønlie, Siân. The Saint and the Saga Hero. Cambridge University Press, 2017.
Phelpstead, Carl. Holy Vikings. ACMRS Press, 2007.
Wellendorf, Jonas. "Ecclesiastical Literature and Hagiography." Ármann Jakobsson and Sverrir Jakobsson, eds. The Routledge Companion to the Medieval Icelandic Sagas. Routledge, 2019.
And if you're looking for a more general introduction to the phenomenon of medieval saints' cults, you really can't do better than Peter Brown's The Cult of the Saints (University of Chicago Press, 1981).
Music Credits
Intro Music - "Prelude and Action" by Kevin MacLeod
Link: https://incompetech.filmmusic.io/song/4236-prelude-and-action
License: http://creativecommons.org/licenses/by/4.0/
Outro Music - "Stormfront" by Kevin MacLeod
Link: https://incompetech.filmmusic.io/song/4421-stormfront
License: http://creativecommons.org/licenses/by/4.0/