Episodes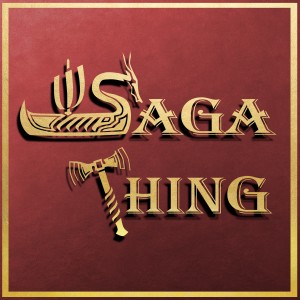 Saturday Feb 20, 2021
Saturday Feb 20, 2021
Lots of Viking style fun and medieval adventuring on this episode of Saga Thing. Join us for part 2 of The Saga of Thord Menace!
Orm is dead and Skeggi of Midfjord is unable to avenge his awful nephew. It's time to see where all of this leaves Thord Menace. If the original illustrations for this chapter by @skarphedin_illustrator are any indication, things are going to get a little messy.
Here's Thord getting to know Orm's business partner, Indridi.
And here's an action shot of Thord's meeting with Ozur.
Music Credits
Intro Music - "Prelude and Action" by Kevin MacLeod
Link: https://incompetech.filmmusic.io/song/4236-prelude-and-action
License: http://creativecommons.org/licenses/by/4.0/
Review Music - "The Royal Vagabond Medley" by Jocker's Dance Orchestra
Poetry Music - "Crowd Hammer" by Kevin MacLeod
License: http://creativecommons.org/licenses/by/4.0/
Outro Music - "Stormfront" by Kevin MacLeod
Link: https://incompetech.filmmusic.io/song/4421-stormfront
License: http://creativecommons.org/licenses/by/4.0/