Episodes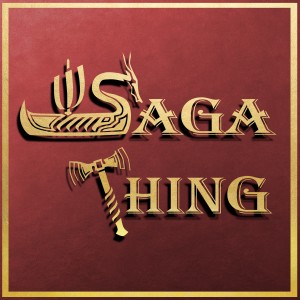 Sunday Jan 08, 2023
Sunday Jan 08, 2023
In this thrilling episode, Kjartan asserts his presence in the district (and gets a taste of revenge) by humiliating Bolli, Gudrun, and the Osvifssons. I'd love to tell you more in this teaser about how he goes about that, but I don't want to spoil the fun. And even as Kjartan pushes back against his rivals at Laugar, Gudrun pushes back harder. All of this sets up one of the saga's most exciting and moving climaxes as Bolli and Kjartan finally come to blows.
Because this is the saga's first major climax, we take our time setting it up. And when it's all finished, there's a special summons at the end where we consider the good and bad of Kjartan's character. Find us on social media and let us know how you feel about Kjartan (sagathingpod on Twitter, sagathingpodcast on Instagram/Facebook, or on our unofficial official Discord page).
Jacob Foust (aka @skarphedin_illustrator) composed the above illustration of Bolli and Kjartan sharing a quiet moment. It's quite touching, especially when you know the story. If you don't know the story, then listen to the episode. What are you waiting for?
Music Credits
Intro Music - "Prelude and Action" by Kevin MacLeod
Link: https://incompetech.filmmusic.io/song/4236-prelude-and-action
License: https://filmmusic.io/standard-license
Review Music - "The Royal Vagabond Medley" by Jocker's Dance Orchestra
Outro Music - "Stormfront" by Kevin MacLeod
Link: https://incompetech.filmmusic.io/song/4421-stormfront
License: https://filmmusic.io/standard-license