Episodes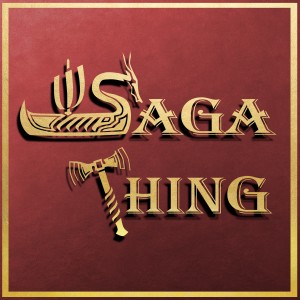 Sunday Feb 05, 2023
Sunday Feb 05, 2023
In this episode, Bolli finds out what happens when you kill your foster brother. We discuss Thorgerd Egilsdottir's lust for vengeance, how the avengers assemble, and Gudrun's handling of yet another loss. This episode also features some special guest appearances by some familiar faces from Saga Thing past and the first appearance of Bolli Bollason.
When all is finished, we summons Bolli before the court and review the evidence to assess his character. Step into the conversation on our social media:
Sagathingpodcast on Facebook and Instagram
and
The unofficial official Saga Thing Discord
The illustration above was composed by Jacob Foust (aka @skarphedin_illustrator), our special guest illustrator for Laxdaela Saga. 
Music Credits
Intro Music - "Prelude and Action" by Kevin MacLeod
Link: https://incompetech.filmmusic.io/song/4236-prelude-and-action
License: https://filmmusic.io/standard-license
Review Music - "The Royal Vagabond Medley" by Jocker's Dance Orchestra
Outro Music - "Stormfront" by Kevin MacLeod
Link: https://incompetech.filmmusic.io/song/4421-stormfront
License: https://filmmusic.io/standard-license