Episodes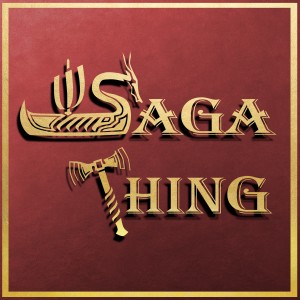 Monday Feb 27, 2023
Monday Feb 27, 2023
While 12 years may have passed since the slaying of Bolli, not a day passed that Gudrun wasn't thinking of getting her revenge on the Olafssons and their companions. Now that her two sons, Thorleik and Bolli, are old enough to avenge their father, Gudrun arranges a secret meeting with Snorri godi to lay out a cunning plan. Unfortunately for Gudrun, Snorri doesn't share her enthusiasm for attacking the Olafssons, or most of the other Bolli-slayers for that matter. There is one man, however, whose death could satisfy the demands of Gudrun's revenge and the honor of young Thorleik and Bolli.
In this episode, we trace the evolution and flawless execution of Snorri and Gudrun's cunning plan, witness the oaths sworn at Gudrun's fourth betrothal, meet a strange man calling himself Killer-Hrapp, and discuss his apparent reference to Reynard in most English translations of Laxdaela Saga.
Step into the conversation on our social media:
Sagathingpodcast on Facebook and Instagram
and
The unofficial official Saga Thing Discord
The above illustration of Bolli Bollason and Helgi Hardbeinsson was composed by Jacob Foust (aka @skarphedin_illustrator), our special guest illustrator for Laxdaela Saga. 
Music Credits
Intro Music - "Prelude and Action" by Kevin MacLeod
Link: https://incompetech.filmmusic.io/song/4236-prelude-and-action
License: https://filmmusic.io/standard-license
Review Music - "The Royal Vagabond Medley" by Jocker's Dance Orchestra
Outro Music - "Stormfront" by Kevin MacLeod
Link: https://incompetech.filmmusic.io/song/4421-stormfront
License: https://filmmusic.io/standard-license